Captain Marvel,One of the American Air Force
consultants dies in an accident
Commander Stephen of the Bagno has passed away this weekend while conducting training exercises.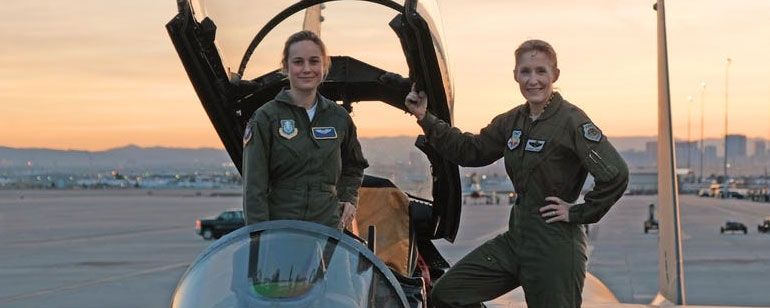 The filming of Captain Marvel has already begun. One of the most anticipated films of Marvel's cinematic universe, the first female-starred, will debut in 2019 so now the whole team is focused on making the best possible tape. To prepare the protagonist, Brie Larson, in the role of Carol Danvers, the young woman has received training from several U.S. Air Force specialists.
Before starting the filming, the young woman has prepared as a pilot to be able to give authenticity to the character of Danvers with the help of the armed forces of the country, especially the consultant the commander Stephen of the Bagno. This week has been known the sad news that the pilot has died during a training due to an accident with his fighter F-16. The American Air Force Test Squadron has published the sad news as well as ABC news.
U.S. Air Force Air Demonstration Squadron Slot Pilot Thunderbird 4, Maj. Stephen Del Bagno, was killed when his F-16 Fighting Falcon crashed over the Nevada Test and Training Range April 4, 2018. https://t.co/18AUe8PhMu

— Thunderbirds (@AFThunderbirds) April 5, 2018
In addition, the actress Brie Larson has sent this message on social networks in which he laments the death of his partner, who defines as his brother, his mentor in terms of aircraft piloting. The young woman has emphasized that he has improved his life and his way of being, and above all: "There's no Carol without you. You have helped Me to create it and I will be forever grateful ".